My Son is Crazy, but Promising
2005
Written by Tim Kelly, this play is  not only about a lodge in Tumbleweed, AR, but also the many people who live and come to the lodge.
CAST
Arthur Whitney…Daniel U.
Fay Armstrong…Jen R.
Chi Chi Vazoom…Shauna H.
Bud Granger…Jon M.
Larry Lime…Sawyer V.H.
Oysters Rockerfeller…Tim M.
Karen Russell…Karli M.D.
Dimitri Jones…Wes J.
Susan Claypool…KaraK.
Cora Ames…Sara L.
Sheriff Bates…Ben T.
Tilly Granger…Meah K.
Gert Witherspoon…Alissa V.S.
June Whitney…Natalie S.
STAGE CREW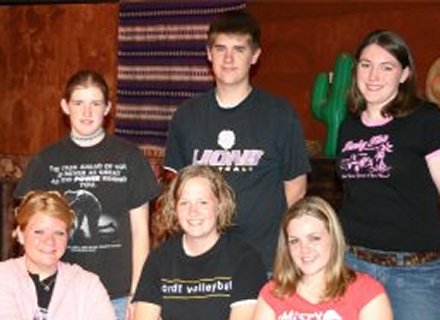 Beth D.
Tom V.
Jen R.
Laura S.
Molly H.
Maria D.