Franziska B.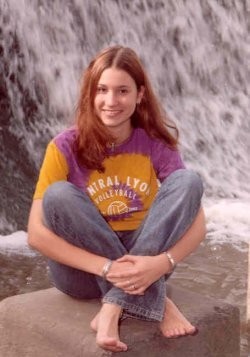 I would love to visit Germany and maybe some other countries. I would also like to make new and interesting friends from these places. Oh wait…. I have! One of the nicest people I know is Franzi B. She was born on December 8, 1985 in Germany. Franzi's family consists of her father, mother, and one brother. Her mother is a pharmacist and her father is an engineer. She also likes swimming and volleyball. Franzi is one of our all time favorite foreign exchange students this year.
Franzi loves being active in the Octoberfest in Germany, and missed taking part in last year's celebration; but while she is here she is taking English, physics, GTA, spanish, psychology, American history, novel, and government.
The Hurricane is Franzi's favorite movie, too. She likes listening to Xavier Naidoo while painting, which is one of her favorite past times. She also wants to own a V.W. Golf car someday in the future.
She said that she would love to go to the Rocky Mountains and go snowboarding with anybody who would like to go with her. When asked what she would change about school she said, "In German schools, I would change the many subjects which are not interesting. For example the subject where you learn about very colorful pictures…. it's called art, but we didn't paint or draw the whole year I took it."
"Don't give up- one day you will be a senior, and you will be sad that you have to go to college now," was Franzi's words of wisdom to the underclassmen. Her future plans are to maybe go back to Germany or go to college in America. She wants to study journalism or design in college. Her favorite moment in Central Lyon was the volleyball practices. Good luck to Franzi B. in the future.