Jacob D.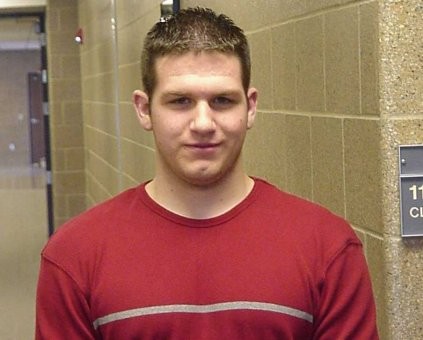 Soon Jacob will be celebrating his 18th birthday and this year he gets to spend it on Thanksgiving. Jacob was born on November 28, 1984 to the proud parents of Rene and Joel. He has two sisters Jessica and Jamie.
During his high school career he has participated in football, band, wrestling and FFA. Some of the classes he is taking to keep him busy before he graduates at mid-term are government, GTA, work-study, Grammar, and Intro Industrial Tech.
Jacob's favorites are book, On the Wings of the Falcon. His dream is to being driving around in either a red, black or white Ferrari listening to whatever is on the radio at the time. He likes eating steak and potato salad while watching either the movie Lord of the Rings or the TV show Dragon Ballz.
I asked him if he had won a trip to anywhere of his choice and could bring two people with him, where would he go and with whom? He told me " I would go to the Swiss Alps with Kristin and Diedre." I was also able to ask him if he could change anything about school what would it be? He said "Either open campus for seniors all year around or add an automotive class."
His future plans are to start college on January 9 at Dakota State University. He sees himself in ten years living some where in Colorado, married and having one child.
He admires his grandpa the most because he lived life to the fullest, always right, and he was a hard worker.
Jacob would like to leave the underclassmen with some words of wisdom " Who cares about today or what you own; it matters what you know and how you use it." I want to wish you the best of luck with your future and hope you have a great time with the rest of your high school career.