Shelly D.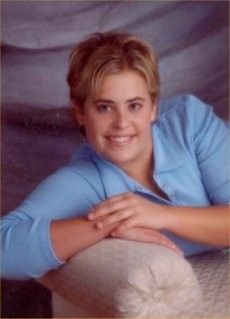 Shelly Dreams of a Mustang

Twenty-one years, 1 month and 9 days after the first mustang was built, Shelly was born. Q: What do you get when you cross Shelly with a mustang? A: Shelly's dream car; a silver Mustang convertible. Shelly is the daughter of Rich and Lori and the younger sister of Tracy.
Here are a few a Shelly's favorites: favorite author, Lurlene McDaniel; mashed potatoes as her favorite food; and the color purple. Along with those favorites, Shelly likes the movie Sweet Home Alabama; "Greatest Fan of Your Life" for her song; subject, Single Survival; and her favorite T.V. show is 8 Simple Rules.
Shelly is an active person in and out of school. Her busy schedule consists of accounting, psychology, work study, calculus, Grammer, band, web page design, single survival and government. She has also kept busy with basketball 4 years, volleyball 4 years, golf 3 years, softball 3 years, and International Club 3 years. Outside of school she is a member of the First Reformed Church here in Rock Rapids and attends the RCYF church group. Even with all of these activities Shelly has been able to stay on the honor roll.
We asked Shelly a couple of odd questions to see what her response would be… and the survey is in. We asked Shelly if she won a trip somewhere with two friends, where would she go and with whom? Shelly told us that she would go to Hawaii with Haley and Tiffany. Along with that question we asked Shelly if she could change anything about school, what would it be? She told us that she would love to have open campus all year around.
Shelly's future plans are to attend a 4 year college and major in elementary education. She hopes in ten years to be married with a few children and teaching elementary school.
Finally I would like to leave you with Shelly's words of wisdom, and the senior class motto: Live each day like its your last, because some day it will be.
Good luck Shelly from the journalism class and enjoy the rest of your senior year.