Donald G.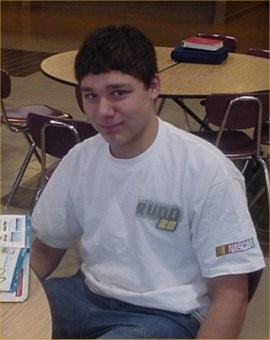 On July 14, 1985 a wonderful little boy was brought into this world, Don. This year in high school Don is taking speech, government, horticulture, natural resources, and Vo.Ag.II.
In Rock Rapids, Don participates in racing on Friday nights at Rapid's Speedway. Don has many favorites which consist of movie, Days of Thunder, music/song, Limp Bizkit- "Livin It Up", color-orange, food-pizza, subject-natural resources, T.V. show- Inside Nascar, and Don's dream car is a Nascar racecar.
If Don won a trip to go anywhere he wanted he would choose to go to Bristol Motor Speedway. One thing that Don would like to change about Central Lyon is to have open campus all the time.
Don sees himself in the future racing on Friday nights and working all the other days. I would like to wish Don good luck in everything he does and have a wonderful rest of the school year.