Jeanne H.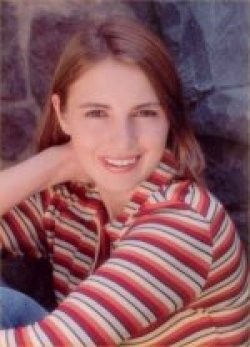 On February 24th, 1984 a baby girl was born into the loving care of Tom and Norma. Jeanne is only one of the five daughters and one boy in the family.
Jeanne has run in track and was in cross-country for three years and lettered in both. Jeanne has also made an appearance in basketball for three years and volleyball for one year.
Jeanne has also been very active in FFA. She has been a reporter for FFA and she also received the Star Greenhand award.
Jeanne has many favorites and among these are The Goonies, her favorite movie. And when "I Think We're Alone" comes on the radio, expect Jeanne to be jammin' out to it! Spells, chocolate frogs, and riding on brooms is what Harry Potter is all about in his books and apparently so is Jeanne because she likes the whole series. When Jeanne isn't busy with friends and wishing she had a black 2002 two-door cavalier, she is at home watching Malcolm in the Middle. Jeanne would love to go to Cancun for spring break. But she would not go alone! She would bring Haley, Shelly, Anita, and Tiffany.
If Jeanne could change one thing about school, she would change that seniors would get open campus all-year round. As graduation nears Jeanne would like to say that she will always remember the road trips, with friends, to the football games. And to all the underclassmen, "Have fun, it goes by fast!" Good Luck Jeanne in everything that you do!