Haley H.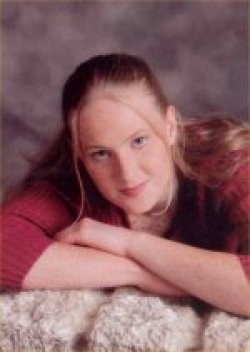 On January 18, 1985 Jim and Mick brought a beautiful baby girl by the name of Haley into this world. Haley has a younger brother Kelly, a dog Cotton and a cat Lily.
While in high school Haley has been keeping herself busy by doing many things which include computer apps, grammar, calculus, accounting, government and chorus/swing choir. Haley is also into many sports which include volleyball-4 years, basketball-4 years, golf-3 years, band-3 years, choir-4 years and swing choir-3 years. Some honors Haley has received are 3rd team all-conference in volleyball, 1st team all-conference in volleyball, lettered 3 years in volleyball, 2 years in basketball and 3 years in golf.
Haley has many favorites which include movie- Pretty Women, music/song- "I'm With You" by Avril Lavigne, color- pink, she loves ice cream, subject math, and T.V. show Good Morning Miami.
If Haley could go anywhere and take anybody she would have to pick Ireland with Shelly and Anita. If Haley could change anything about Central Lyon it would have to be to have more time between classes. If Haley had to be some kind of food it would be ice cream because it makes everyone happy, unless you're lactose and tolerant.
Haley's plans for the future are to go to a 4-year college at UNI, ISU, or SDSU. In ten years Haley sees herself with a good job that she really enjoys, a husband and to have a couple of children. "The most memorable high school moment was the two band trips," said Haley. Some words of wisdom from Haley to the underclassmen are "don't be afraid to be different." Haley, Good Luck and Thanks.