Christy H.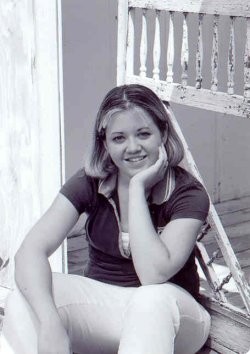 Christy was born on June 9, 1985 to the proud parents of Deanna and Cliff. She has a brother named Jeff and a sister named Cindy. She also has a pet dog named Teddy.
Christy has kept busy her high school career by participating in volleyball 3 years, bowling 3 years, FFA 4 years and International Club 1 year. She has been on the "B" honor roll all four years of high school.
To keep busy her senior year Christy is taking these classes: government, Ag. business, chem. com., psychology, sociology, and foods. Her favorite classes this year are single survival and Health 1. Good luck with those classes!
Some of Christy's favorite things are: movie- Walk to Remember, color- purple, book- Remember Me by Mary Higgans Clark, TV show- Dismissed. Her dream is to some day be driving down the road in a 2003 Spyder Eclipse while listening to alternative or country music after having spaghetti for dinner.
I asked Christy if she had won a trip to somewhere with two friends where would she go and with whom? Her answer was "I would go to Hawaii with Cheryl S. and Jami S." I also asked to name one thing she would change about school she said to have open campus all year around.
Her future plans are to go to a 4-year college. In ten years she sees herself married with three or four kids and having a good job and living somewhere in the mid-west. Her most memorable high school memory is the trip for National FFA convention in Louisville.
Christy would like to leave these words of wisdom to the underclassmen "Try your hardest, be yourself, and have fun." I want to wish Christy the best of luck in her future and hope the rest of her year goes well.