Jamie M.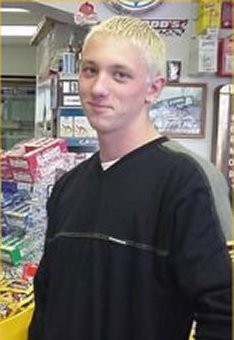 What do Sarah Michelle Gellar, Robert Carlyle, Pete Rose, Rod Steiger, and Jaime all have in common? Well if you guessed that they all share the same birthday then you are correct. Jaime was born on April 14, 1984. Jaime's family is made up of his parents Pudge and Dawn and also his brother Sam. Jaime also has a dog named Jordie.
Jaime has a busy schedule this year. His classes include government, Tech Concepts 1, single survival, Com. Skills 2, and also is taking work studying at Todd's. Besides school Jaime also works at Stewart's Construction. He enjoys listening to rap especially 2-Pac. Also, his favorite movie is Menace 2 Society. His favorite thing to read is XXL the magazine and also The Source. He likes to watch MTV and his favorite food is steak. If Jaime had his way he would be driving around in a silver Bentley or Lincoln.
When asked where he would want to go on a trip and with whom, Jaime replied he would go to Jamaica with Joe and Cliff. Also when asked what he would change about school he said that he would change the homework, taking notes, and all that other boring stuff. His future plans are to graduate at mid-term and finish out the winter working at Stewart's. After that he plans on moving to Kansas City to work for a brick laying union. In ten years Jaime sees himself having his own construction crew and living very wealthy.
Jaime would like to leave everyone with this advice, "Party while you can, and don't have any bills." I'd like to wish Jaime good luck with his future plans and hope he achieves them.