Shane M.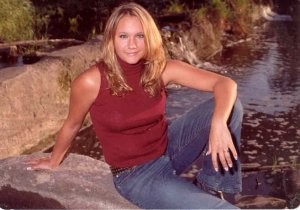 The day was January 23, 1985; Ron and Deb were having their fourth daughter. Believe me, I don't think they knew how much they were in for with this one. She may have been kicking and screaming, but Deb held her and Shane Leigh quieted down. Nowadays the two cats, two dogs, four sisters, two nephews, and one niece watch out for her. Shane is kind of known to express her own opinion and that's why she has made it so far in life.
Shane has participated two years in cheerleading, two years in basketball, and three years in international club. Her classes consist of government, sociology, business law, business marketing, automated accounting, psychology, single survival, economics, independent study, journalism, and work-study at KD Creations. Whew, that's a lot of classes to type for me, but that's not it. Shane was also awarded the Kauffman Foundation Scholarship. Going to the Bahamas with Scott K. and Lance K. seems like a fun thing to do in the future. If you know Shane like I do, believe me, she has a lot of money to do it. Shane is known as a workaholic. She works summers at the Rock Rapids pool and the winters at the Luverne pool. She also wants open campus all year for seniors. Her favorite movie is The Craft. She enjoys rap music while driving in her dream car, a silver manual mustang with a sunroof and an awesome system. She likes eating Chinese food while reading her favorite book "Interview with a Vampire Slayer." On Shane's survey she stated she wanted to be strawberries and chocolate pudding on a fancy glass plate.
Shane plans on majoring in small business management while attending college in Colorado. Her most memorable high school moment was her freshman year going to state football. "Be who you want to be and don't let others tell you who or what you should be; and have some fun at the same time," was her advice to the underclassmen. Thanks Shane for giving us your interesting life outline to write about. Good luck in the future.