Tyler M.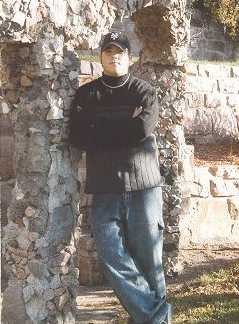 Who's going to be the first person to get married out of the class of 2003? If you can't guess, I am going to have to tell you. That person is Tyler. He was born November 21, 1984 to Jackie. His family consists of his step-dad Jason and his brothers Max, Mason, and Justin. He loves his dog Sandy and his bird Parrot.
Monge loves to spend all of his time with his fiancé. He goes to church in Sioux Falls. Office Space is his favorite movie, and eating Mexican food and listening to Korn are other favorites. His favorite color is black. The dictionary is the best book to read for him because he doesn't like to read; he just looks things up. Monge wants to own a Ferrari 350 Spider Hard Top for a car. "Very expensive," he says. Mobile, Alabama is the place he wants to go to. He wants to take Sonny and his fiancé.
In the future Tyler is going to attend Southeast Tech for auto body, and he is going to get married.
Some other things Tyler wanted us to put in his senior spot light was that he is a totally different person outside of school. Yes, he does like country music. "Oh, yeah I am so excited to get married," he said. He thinks his fiancé, Trista, is a great person. "Know where your place is in life, and you'll make it far," were Tyler's words of wisdom to the underclassmen. Good luck, Monge, in the future and have a happily married life.