Darin O.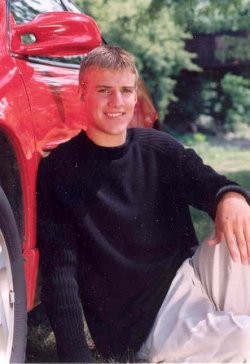 On April 14, 1865 President Abraham Lincoln was assassinated in Fords theatre by a man by the name of John Wilks Booth. Roughly 44,160 days later on March 22, 1985 a young man by the name of Darin was born in the small metropolis of Sacramento, California. Five years later he moved to Marshall, Minnesota and stayed there for about 3 years. When Marshall got boring he came to Rock Rapids where he has been ever since. The people he most admires are also the same people who brought him here, Marlin and Shelli. He has a brother, Justin, and a dog Jax.
Darin is a letter winner in football, basketball, baseball, and track. Some of his many accomplishments include 1st team all conference baseball, and he is an honor student. One of Darin's dreams would be driving his car of choice (corvette) sometime in the near future. He likes the color blue and alternative music. Darin is a well known and a highly liked dude in the Central Lyon halls. I'd say that many people look up to him, not only because he's 6'5" but also because he is a happenin' guy. Many people know Darin for his one of a kind "Wiz Walk." Darin saw it some where and it caught on right away, so now some of us know him as THE WIZ.
In the future, Darin plans on attending a 4-yr. college and is undecided for a major. Darin credits his tallness to milk, I would almost say he loves it, he drinks on average four glasses a day. Darin plays wideout, tight end and is a defensive back for the football team.
To conclude this article is nearly an impossible task. There is so much we all should know about the Wiz, but we don't have enough paper to justify. To be honest I would just like to wish the Wiz an enjoyable life and chin up ol' chap.