Pam B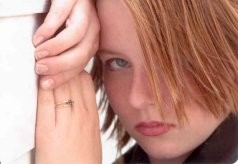 On February 18, 1986 Pamela was brought into this world. Her parents are Keith and Lora. Pam also has three sisters Mecinze, Charlotte, and Holly. Pam has many cats but her favorite ones are Gimper and Tasha.
Pam has participated in many school activities which include band, large group and individual speech, musical, golf, softball, senior class secretary, and pep club. Pam attends the First Reformed Church in Hull, IA.
This year Pam is taking band, senior grammar, P.E., child development, single survival, novel II, textiles, psychology, sociology, and government. Pam's favorites are movie Super Troopers and Half Baked, music "I Surrender All", color maroon, book Ordinary People, food orange chicken, subject creative writing, TV show Blind Date, and her dream car is a yellow convertible Mustang.
If Pam won a trip and could take two friends with her, she would go to Germany with Ashley and Chelle. If Pam could be any kind of food she would want to be a strawberry dipped in vinegar that way she can be sweet and bitter at the same time.
Pam's future plans are to attend Iowa Lakes to get her associates degree in journalism and then transfer to Northwestern and major in journalism. In ten years she sees herself married with one child while working in a major journalism company.
Words of wisdom form Pam are "Be who you are, don't let anyone get you down" also "All that is gold does not glitter". The person Pam admires the most is Pat Hagge because she is almost 92 years old and still has more spunk than her two younger sisters combined.
The journalism class hopes you have a great year and good luck in the future.