Michelle B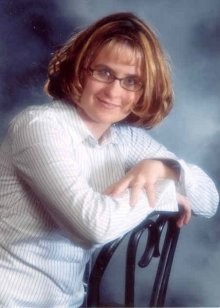 What happened on July 25, 1986? Chelle was born. Her parents are Fayette and Trevor. Chelle's family also consists of two brothers, Trenton and Tyler, and their puppy, Rusty.
Throughout her high school career, Chelle has been involved in basketball, track, volleyball, softball, and drill team. She also keeps herself busy with academics. Her schedule this year includes government, single survival, sociology, chem com, communication skills, art, journalism, and creative writing.
Some of Chelle's favorites include the following: movie- A Walk to Remember, song- "Numb", and color- baby blue. If she could have any car in the world, she would have a yellow Prowler.
When asked where she would like to take a trip and get away, she said she would go to Kilkinney, Ireland, with Lisa and Will.
Chelle's future plans are to attend Iowa Lakes and major in music technology, then in 10 years she sees herself being married and being successful with what ever makes her happy (no matter how much money she makes.) Chelle most admires her grandmother, Shirley, because she did what she believed in and put a smile on every face.
Chelle's words of wisdom for the underclassmen: "Always care about your character more than your reputation. Your character is who you are and your reputation is only what others think of you."
On behalf of the journalism staff, we wish Chelle the best of luck in all her future endeavors!