Heather D.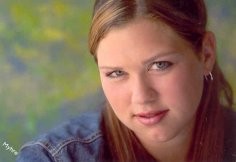 It was one hot day on July 30, 1985. Lisa was getting ready to be a mom and Roger was sitting back enjoying the day. Heather Joy was brought into this world to her fun loving parents. Heather also has two brothers, Corey and Jarod, and a dog whose name is Kia.
Heather is busy this year with band, choir, swing choir, calculus, sociology, single survival, physics, Health I & II, speech, and grammar.
Not only is she busy with classes, but she's busy with extra curricular activities as well. Heather participates in volleyball, basketball, track, softball, school musicals, academic decathalon, large group speech and individual speech. Heather has been the class treasurer freshman, sophomore, and senior year. If Heather could change one thing about school she would have more science classes.
When Heather isn't in school she's watching the movie Moulin Rouge, or the T.V. show Trading Spaces. You can hear her singing the words to her favorite song, "Can't Hold Us Down" by Christina Aguilera. It's no surprise to see her reading pages off a book by her favorite author Linda Howard.
Heather's future plans are to attend University of Iowa for pre-med. In ten years, she sees herself graduated from medical school and possibly married with children.
Heather's words of advice to under classmen are "Nothing in the world has to be feared. It only has to be understood and the future belongs to those who believe in the beauty of their dreams."
Good Luck Heather in all you do! The journalism class wishes you the best.