Kyle D.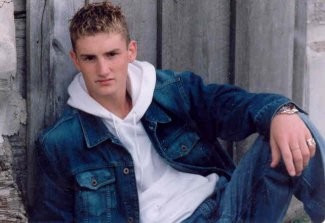 On Nov. 23, 1985, Pee Wee Herman hosted Saturday Night Live with Queen Ida and The Bon Temps Zedeco Band as the musical guest for the show. Also on this date in history, Kyle was born.
Kyle's family includes his mother, Barb; father, Bob; brother, Travis; and his dog Fritz.
During his high school career, Kyle has been involved in both academics and various activities. Kyle has participated in wrestling and band just to name a few. This year kyle is taking government, work study, Tech Concepts IV, single survival and journalism.
Some of Kyle's favorites include the following: song- "Tequila Sunrise", color-black, author- Jack London and food-steak. Kyle's dream car would be the car he drives now, his '69 Oldsmobile 442.
If Kyle could travel anywhere in the world with his friends, he would go to South Padre Island with "the guys".
Kyle admires the Wright brothers because "against all odds they still accomplished the impossible and set the future a new course." As you can tell, Kyle loves planes and flying, which is why he is planning to join the U.S. Air Force. Kyle is graduating at the end of this semester and will be leaving for San Antonio, Texas, on March 30, 2004, to start his quest to become a pilot.
Kyle leaves us with these words of advice: "Roll with it, and ride it out!"
Congratulations Kyle, on a great high school career and good luck in the future.