Serina P.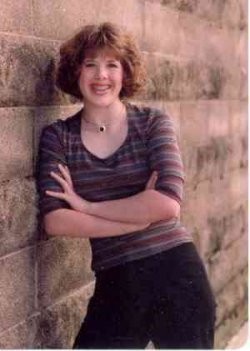 You know that girl who is always the first one on the dance floor breaking her moves? Well that's my friend, Serina. She was born on May 17, 1984. Her parent's names are Merry and David and Emmajean. She has an older brother named Kevin.
During Serina's high school career she has participated in volleyball 2 years, bowling 4 years, volleyball manager 1 year, basketball manager 1 year, cross country 1 year and choir all 4 years. She has also been a member of 4-H for 3 years.She is keeping busy this year with government, word processing, single survival, chorus, Novel 2, business marketing, Art 1, sociology, psychology, web page design, work study and today's family.Serina's dream is to ride around in a manual lime green or blue car with great gas mileage while listening to Eminem. She enjoys books by Nora Roberts. She likes watching Dead Zone while eating chocolate chip cookies from the Jubilee deli.
I asked Serina if she had won a trip somewhere and could bring two friends where would she go and with whom? She told me "I would go to Hawaii with Lindsey and Jami because of the beaches and the hot guys. You couldn't ask for more."I also asked her if she could change any one thing about the school what would it be? Her response was "The computer system because it never works when I want it to. It's always down."Her future plans are to join the Air Force. She is enlisted for four years and leaves 6 weeks after graduation. She sees herself in ten years living in a three-bedroom house in either Europe or one of the New England states like Maine or Delaware. Her most memorable moment was after a volleyball game her sophomore year. The team was on their way home and the music was going. The song "Who Let the Dogs Out" came on, Serina got up and started dancing in the isle. Everyone started singing "Who Let Serina Out" until Mr.Wright started yelling at them to be quite and to sit down.
I would like to say Good Luck to you Serina with all your future plans and the rest of the year.