Melinda P.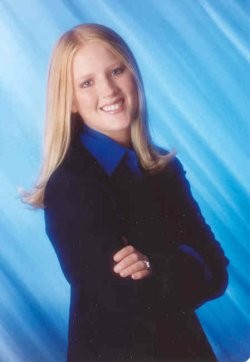 You've seen her on the wrestling mats and on the football field cheering as loudly as she can yell and now in just a week you'll be able to see her walking across that gymnasium floor to receive her diploma. Her family section will be filled with her dad, Greg; mom, Lori, and sisters, Kristy, Julie, Deann, Jennifer, Katie and little Emily.
Melinda has not only been apart of basketball, wrestling and football cheerleading throughout high school but also student council, musicals and she has helped on the stage crews.
Heads have turned as this best-dressed gal walks down the hallway to her classes this year which consist of band, homes by design, single survival, work study at Flower Village, geometry, journalism, government speech and today's family. Melinda enjoys her open campus during lunch and believes all juniors and seniors should be able leave an hour for lunch everyday.
There is hardly a time where you can catch Melinda without her nose in a book (her favorite is The House on Hope Street by Danielle Steel), but when she isn't reading or cheering she enjoys the movie, When a Man Loves a Woman, and the song, "If that's what it Takes" by Celine Dion.
Melinda would like to remind the underclassmen that you are only in high school once, don't worry, just have fun! "I sure have," she explains "The band trips and state wrestling 2002 were the most memorable."
Melinda plans to attend Kirkwood Community College in the fall for Business Administration and sees herself with a family and a good job in ten years, that's after she takes her dream trip to Hawaii with Andrea, Theresa and Stephanie, of course.
Well, Good luck in the future and have fun in all you do.