Ryan R.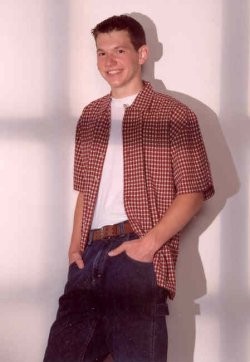 On April 28, 1984, Randy and Betty's son Ryan was born. Ryan has two sisters named Kristy and Kayla, a dog named Murphy, and a cat named Lucky.
Ryan has kept himself busy during his high school career. He has participated in choir for four years, swing choir for three years, band for four years, jazz band for four years, two all-school plays, and four school musicals.
Outside of school Ryan is an eagle scout, boys state candidate and a member of the First Reformed Church here in Rock Rapids.
Along with all of his after school activities Ryan's schedule stays busy with his classes consisting of government, psychology, sociology, Algebra II, webpage design and grammar.
Even though Ryan is a busy guy he still has time for his favorite things, like his favorite movies The Goonies and Office Space, favorite bands: Weezer and Smashmouth, and his favorite T.V. show That 70's show. Ryan is an American through and through… his favorite colors are red, white, and blue.
Ryan is a pretty cool guy to talk to. When I asked him if he could go anywhere with two friends he said he would go to Hawaii with Ben Stiler and Elizabeth Harley. I also asked Ryan if he could change anything about school what would he change. Ryan came up with the best answer yet, a massage therapist in each room.- Great Choice. Ryan's future plans consist of college, and hopefully in ten years he plans to be rich, and retired with a giant mansion.
I would like to close my article with Ryan's words of wisdom: "Life is a garden, DIG IT!" Good luck Ryan in all that there is to come.