Theresa R.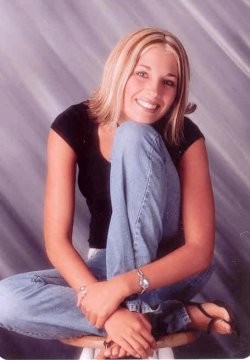 She's a social butterfly, a friend to everyone, and probably the nicest person you could ever meet. Who am I talking about? Theresa, that's who I am talking about! Theresa was born on August 16, 1984, to her proud parents, Jon and Linda. Theresa was born into a loving family with two brothers named Andy and Alex, a dog named Annie, and a cat named Lexus.
Throughout high school Theresa has had a very busy schedule. Not only has her academic load been heavy, but she has a busy after school schedule as well. Theresa has participated in many after school activities, but she really shined in her cheerleading career. Theresa has participated in football cheerleading for one year and wrestling cheerleading for four years. Through all the time and effort she has put into cheerleading, Theresa was honored with the chance to participate on the Honor Squad, and The All-American Cheerleading Squad at the Citrus Bowl in Florida over the holiday break. She has also received the Sportsmanship Award for cheerleading. With all the pride she has in Central Lyon its no wonder she became the 2002 homecoming queen.
After a busy schedule like that, a girl has to relax! Theresa likes to relax with a few of her favorites like, the movie My Girl and her favorite book A time for dancing. A few other favorites of Theresa's include the color green and country music. She also likes to eat ice cream while watching her favorite T.V. show The Real World. Her favorite sport without a doubt is cheerleading-Go figure!
If Theresa could go anywhere she would go to Hawaii with her three best friends, Andrea, Steph and Melinda. If Theresa could be any food she would be a really hot pepper so she could leave a lasting impression on people. In ten years Theresa sees herself as a Realtime Recorder, in New York, married, with a part-time job as a cheerleading coach.
Theresa's words of wisdom to the underclassmen are, "Don't sweat the small stuff, and remember anger is only one letter away from danger" and "Enjoy high school! It's a blast!" I agree with Theresa and I want to wish her the best of luck with everything she does!