Mark H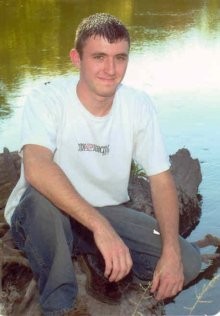 On September 17, 1985, Richard and Angelika brought into this world a new baby boy; they named him Mark. Mark's family consists of his parents, one sister, Tracy, one brother, Richard Jr., two nieces and one nephew.
Mark's schedule this year includes the following classes: government, psychology, tech. concepts, communication skills, Algebra I, single survival, Vo Ag II, and applied woods. Mark is also involved in FFA.
Some of his favorites include: movie-Top Gun, song-"Danger Zone", color-blue, book-White Fang, food- Krispy Kreme Donuts, subject-vo ag, T.V. show-Whose Line is it Anyway? and car-Dodge Viper or a 1968 Dodge Charger. He also loves to hunt coyote and deer.
If Mark won a trip somewhere he would go to Florida or California with Mitch and Mike. If he could change one thing about our school he would make shorter school days. Mark says if he could be any food he would be an orange because they are tough on the outside but soft on the inside.
The person he most admires is his grandpa Jovanovic because he is the hardest worker he's ever known.
In the future, Mark plans to go to WITCC to major in carpentry. In 10 years he sees himself owning his own construction business in Sioux City or Doon. Well, Mark, best of luck in the future!