Mary L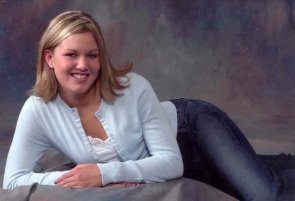 Do you know what happened on April 8, 1986? Well, if you don't let me tell you, Mary was born. Mary's family consists of her mom Marilyn, older brother Tim, and sister Tracy.
Mary is very busy in school and other activities. Some classes she is taking this year are calculus, sociology, physics, grammar, today's family, government, and band. Activities she has kept busy with during her high school days are basketball, volleyball, track, golf, wrestling cheerleader, International Club, pep club, and student council as she is president of the student body this year. Outside of school Mary is also a member of First United Methodist Church.
Some of Mary's favorites are: movie- How to Lose a Guy in Ten Days, color- red, author- Mary Higgins Clark, TV Show- 7th Heaven, and Friends. Her dream car would be a Black Durango or Jeep.
If Mary won a trip anywhere she said she would go to Cancun with all of her friends.
When looking ahead in ten years, Mary hopes to be married, with one child and probably still in med school after attending a university.
Mary's most memorable moments were all the football games and all the crazy things that happened.
Her words of wisdom would be, "If you get the chance, take it; if it changes your life, let it."
Well said Mary! The journalism class would like to wish you the best of luck in the future!