Lennon S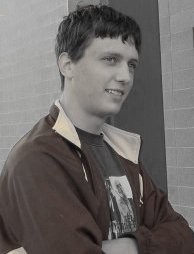 On January 19, 1986, Lennon came into being this world to Randy and Pat Slade. His name was Lennon Davis.
Lennon is a senior this year and is taking shop, English, art (his favorite subject), and government. Outside of school, he spends most of his time playing guitar, watching the show South Park, or listening to rock music. A few of Lennon's favorites include Hunter S. Thompson for an author, the color green, Fear and Loathing in Las Vegas for a movie, and his favorite food is chicken strips and fries.
When asked the question "If you won a trip with two friends, where would you go and with whom?" Lennon responds, "Jamaica, then I'd save the other two tickets and go again." If he could be some kind of food, he would be a carrot, because that's the answer the dad off the cartoon "The Critic" gave his son.
His most memorable high school moment is when they tore the old high school down. The person he most looks up to is guitarist Max Cavalera from Soulfly and Sepultura. His future plans include continuing to play music and go to guitar school.
Everyone from the journalism staff wishes you the best of luck in all you do, Lennon.