Sabrina S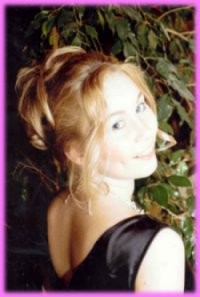 Sabrina, age 16, comes from Germany, and is living with Kurt and Mary H. While attending Central Lyon, Sabrina keeps herself busy with a full schedule of classes. Geometry, chem com, Spanish I, and English III are a few of them, but one class stands above the rest in her opinion and that is American History. The sole reason she enjoys that class so much is that the teacher, Mr. Daoust, is capable of creating a fun, learning environment with education to keep the students focused.
While she is not in school, Sabrina likes to occupy her time by horseback riding, listening to her favorite kind of music, going to the movies, mountain bike riding, and most important, spending time with her friends.
A surprising feature about this particular student is her taste in music, with her favorite song being Sweet Child of Mine by Guns N' Roses. (She has me wondering.) Sabrina has made several comments about the school's facilities, such as the differences and the similarities between her old school in Germany and Central Lyon, but the thing that really impressed her was the new building that we are so fortunate to have.
While in America, Sabrina hopes that her goal of becoming more fluent in speaking English will be accomplished. She also feels that this will help prepare her for the challenges that life will have in store for her. Welcome to Central Lyon Sabrina and good luck!