Cheryl S.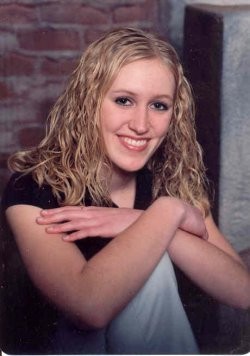 On July 27, 1984 Purple Rain was the top seller at the box office. What do Purple Rain and Cheryl has in common… actually nothing, but on that day Gordy and Marge had a baby whom they named Cheryl. Along with her parents Cheryl has three sisters, and two brothers-in-law.
Cheryl has been a very busy person participating in volleyball, three years; golf, two years; Mock Trial, three years; jazz band, three years, band, four years, choir, four years, and swing choir, two years. Along with all of these activities she has gone to state jazz band, and state Mock Trial this year. She was named Prettiest Eyes for Best of Class. Cheryl also keeps busy with her classes consisting of grammar, government, calculus, accounting, speech, psychology, and sociology.
While growing up Cheryl has accumulated a lot of favorites. Her favorite movie is Pretty Woman; song, What a Beautiful World by Louie Armstrong, the color red, chicken as her favorite food, and her favorite subject is English. Along with those favorites she also enjoys reading the book Remember Me by Mary Higgins Clark
Cheryl is a pretty interesting person to sit down and talk to. When I asked her if she could go on a trip to anywhere, where would she go, and with whom, she told me that she would go to Australia with Jami and Christy.
Cheryl's future plans are to attend Briar Cliff University to major in education and minor in music. In ten years she can see herself married with children.
Before I close my article I would like to leave you with Cheryl's words of wisdom to underclassmen. "Have fun because it goes by fast!"
Good luck, Cheryl, at Briar Cliff University and enjoy the rest of your senior year.