Lindsey S.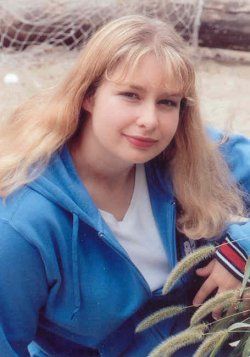 October 29, 1984 was a very special day because Lindsey was born! On this day Leigh and Mark brought home a beautiful baby girl. Lindsey's family now includes a brother Matt, two dogs and a few cats.
Lindsey has been very active throughout her high school career both academically and in the community. Lindsey was in volleyball for two years and international club for four years. To show off her musical talents Lindsey has been in band and choir for three years. Lindsey also has a very heavy academic load this year. Her classes include geometry, sociology, psychology, government, health, work study, single survival, foods, and grammar.
Outside of school Lindsey has participated in 4-H for nine years and is also a member of the Peace Lutheran Church of Rock Rapids. Lindsey also takes a lot of pride in being a mentor for Central Lyon's after school program. This has helped Lindsey plan for her future; she is going to college to major in child development.
With all of her activities a girl has to have time to rest. Lindsey spends that time listening to country music and watching her favorite movie, A Walk to Remember. When she is not listening to music, watching her favorite move or her favorite T.V. show Third Watch you can find Lindsey reading A Time for Dancing and eating pizza.
We asked Lindsey if she could change anything about Central Lyon it would be that seniors could have open campus all year. Lindsey also said that she would go to Australia with all of her closest friends if she won an all expense paid trip.
After going to college Lindsey sees herself starting a family with kids and working. When Lindsey tells her children about high school she is going to tell them about all the late night trips to Sioux Falls and the trips to Florida.
Lindsey has some really good advice for the underclassmen. She says, "Never give up on anything you believe in, because nothing is impossible!" I agree with Lindsey and would like to wish her the best of luck!