Dan V.Z.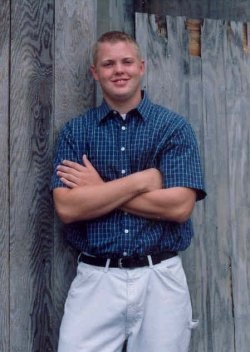 Only two days after the fourth of July in 1984, Dan was born to the proud and loving Chris and Jon, and two very excited brothers, Jake and Joe, welcomed their baby brother.
Dan is a very active young man. You may recognize him from his outstanding football plays or amazing rebounds on the basketball court. Not only can you see Dan on the football field or the basketball court, but you can see him hitting home runs at the baseball diamond or he may flash by you while running on the track. Dan has been involved in these four sports his entire high school career. The dedication that Dan has put into his football career earned him All-District and All-State honors. Dan also received an All-Conference Honorable Mention in basketball.
To add to his list of extracurricular activities we can include band for three years and jazz band for one year. Dan is also a member of National Honor Society and takes part in the United Methodist Youth Group.
Enough with all the fun stuff; Dan wouldn't be in National Honor Society if it weren't for his academic career. Dan is taking business law, grammar, single survival, natural resources, psychology, government, calculus, physics, and web page design.
After a hard day of school, Dan likes to relax by watching The Shawshank Redemption or listening to Zebrahead. While reading his favorite book The Shining or watching his favorite T.V. show, Seinfeld, you can find Dan eating his favorite food, baby back ribs.
Dan is excited that Central Lyon changed their policy on the internet license. Dan's future plans are to go to college and years later to find himself on the beach, sipping a drink, and letting his money work for him.
I would like to wish Dan lots of luck after high school making all the big money!