Alicia W.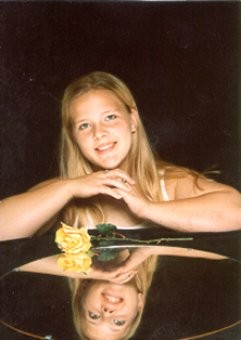 In late August of 1984 Alicia Marie joined the world. Her proud parents Meg and Les presented their baby girl to her older sister Elizabeth. She later became a big sister times three when Justin, Victoria, and Robert were born. Now that she is a senior she is busy at school and work at P'N'P, but she still has time for some favorites. Some of her favorites include the movie, Save the Last Dance and the song "We Shall Be Free" by Garth Brooks.
When I asked her if she had won a trip where would she go and whom would she take, she answered my question easily. She told me that she would go to Thailand with her best friend Tiffany. When she graduates she plans to join the Navy to become a nurse, and after she is out she hopes to have a successful career. Her most memorable moment in high school is when she met friend Tiffany from Maine. Alicia would love to leave you with some words of wisdom to think about -"Dream as if you will live forever, but live as if you will die today."
Good luck, Alicia with the rest of the school year and your future.