Stay on Target. Stay Tobacco Free
TATU / JEL Archery Day.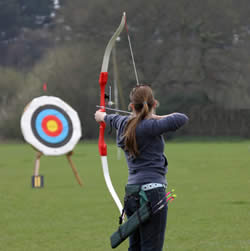 On Saturday, March 28 Central Lyon TATU students, along with 5 area County Conservation Boards, will be hosting a "Stay on Target. Stay Tobacco Free" event. Our schedule for the day will start with check-in from 12:00 p.m.- 12:30 p.m. at the Central Lyon Activities Center. From 12:30 p.m. - 1:30 p.m. we will have guest speakers and informational activities from the DARE program, Tobacco Awareness program, area Naturalists of County Conservation Boards (Lyon, Sioux, Plymouth, O'Brien, Osceola), Rock Valley & MOC-FV JEL programs, and the Central Lyon TATU program. After the informational sessions, from 1:30 p.m. - 3:30 p.m. all guests will participate in target shooting practice and games. At 3:30 p.m. JEL and TATU members will draw for door prizes and present awards.
Registered guests along with their parents or other family members will get complete instructions on archery range procedures and safety. Archery instructors will be giving lessons to and supervising participating archers.
FREE pre-registration HERE. Please invite a friend.