Kim B.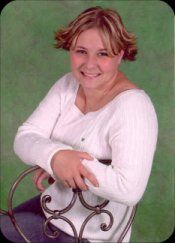 Kimberly Ann B. was born on June 24, 1987. Kim's parents are Alvin and Luella, and her siblings are Kristin, Alyssa, Alan, and Craig. Kim also has a brother-in-law Bill and two nephews, Jorden and Ashten. On her farm, Kim also has two dogs, Gretchen and Lucky, and many cats. In high school, Kim has been active in FFA, volleyball and cheerleading. Kim is also involved in the Christian Reformed Church. She has a busy academic year ahead of her with government, ag. business, chem. com., Novel II, basic geometry, business law, single survival, Tech Concepts II, Sculpture II, and her favorite class, work study.
In her spare time, Kim enjoys watching Dukes of Hazards, along with CSI. Of Mice and Men is her favorite book. Some other favorites of Kim's include country music, the color green, and pizza.
In the future, Kim wants to go to college to become a veterinary assistant. In ten years, she would like to be married with kids and to have a good job. If Kim could spend one day with someone living or dead, she would spend it with her dad Kelly. She would like to tell the underclassmen to enjoy high school, because it goes by fast.