Tracy C.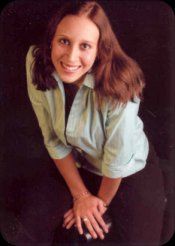 The world was introduced to a baby girl named Tracy Elizabeth on October 16, 1987. Her parents are Lois and Ted. She has one older brother named Tommy, who is 27 years old. She also has a cocker spaniel named Casey and a miniature dachshund named Suzy.
Tracy keeps busy throughout the school year being active in and out of school. She is a varsity football cheerleader and has lettered as a wrestling cheerleader. She is a member of the band and a captain on the dance team. She has also been involved with choir and was a track manager. The subjects she is taking this year include: band, work study with first graders, government, basic geometry, grammar, accounting, single survival, homes by design, and journalism. Outside of school she works at the Pizza Ranch and canoes with her family.
Tracy's favorite movies are Hitch and A Cinderella Story. Her favorite band is Green Day and her favorite color is blue. Some other favorites are Harry Potter books, Mexican food, English class, and the television shows Wildfire, CSI, and Gilmore Girls.
Her future plans are to go to college for elementary teaching or photography. In ten years, she sees herself graduated from college with a good job, possibly married and with kids.
Tracy recalls her most memorable high school moment as going to state wrestling 2005 with all the wrestling cheerleaders and the two managers.
Her words of wisdom to the underclassmen are "Be yourself, everyone else is taken."
When asked the question if you could spend one day with someone dead or alive who would it be and why? Tracy responded her grandpa Bob because he recently passed away. She was really close to him, and she would give anything to spend one more day with him.
Tracy is a hard worker and has grown a lot in the past four years and she will definitely go far in the future!