Nikki G.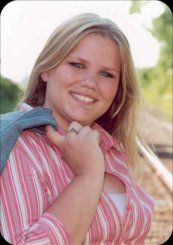 Nikki G. was born on November 14, 1987, to her parents Kevin and Mina. Nikki has one brother John and one sister Katie, and their dog Rebel. It is going to be a busy year for Nikki participating in FFA and working at Lewis Family Drug where she has been employed for almost four years. Classes she is taking this year include government, business marketing, ag. business, foods, speech, psychology, and Today's Family. Nikki has also been on the honor roll every year of high school.
When Nikki has a day off she would be seen sitting at home reading her favorite magazine Seventeen while listening to her favorite music rock. On a Sunday afternoon Nikki could typically be found eating chicken and watching her favorite movie Sweet Home Alabama. Nikki was also voted the girl with the best eyes in the senior class. In ten years Nikki hopes to see herself married with some kids and a good job, very much like her favorite show 7th Heaven. If she could spend one day with someone living or dead it would be her grandma Smidstra because she never got the chance to meet her.
Nikki Geerdes, quiet as she may be, is a great girl and friend. Take the time to get to know her.