Josh H.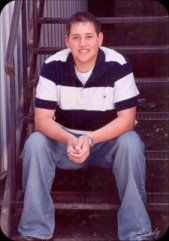 Josh was born on July 11, 1987, to Tami and Russ. He has two sisters, Jenny and Alyssa; two dogs, Patches and Jezzi; and two cats, Muffen and Pookie. Throughout Josh's school career, he has participated in baseball, basketball, and football. He enjoys watching Tommy Boy and the show Pinks. Josh's favorite food is hamburgers, and he likes the color blue. In his free time he enjoys reading the book Twenty and Ten, and his favorite classes are ag. business and p.e.
This year Josh is taking algebra, geometry, p.e., ag. business, government, single's survival, and English. Josh sees himself with a family ten years from now. His favorite memory from high school was at prom when Kevin Green threw up money for everyone.
Josh misses his Grandpa Roy very much, and he would like to spend one more day hanging out with him. Some great words of advice from Josh to the underclassmen are, "Try hard in everything." With an attitude like that, there is no doubt Josh will be successful.