Andrea K.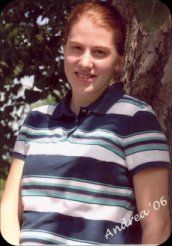 Proud parents Stan and Dawn welcomed their first child, Andrea Rae, into the world on June 1, 1988. Andrea has three sisters, Kyla, Maura, and Becca and one brother Cade. Andrea is a National Honor Society member, and has been involved in speech, choir, swing choir, and jazz choir. She was the class secretary her freshman year and the class president her sophomore year. Andrea was a basketball cheerleader during her sophomore year, and she was in volleyball as a freshman. She has also been a manager for the track and volleyball teams.
Andrea keeps busy with classes and her three jobs. She is employed at Lyon Manor Nursing Home as a certified nurse's assistant, and she teaches Spanish after school to an elementary student. She also works for Hope Haven doing respite care for children. The subjects Andrea is taking this year are Spanish IV, physics, grammar, psychology, calculus, and government. Andrea does work study with Mrs. Metzger's first grade class. She was also in charge of the Mole Day activities for the physics class.
Andrea likes autumn and the colors blue and purple. She enjoys eating chicken, and her favorite school subjects are Spanish and calculus. She enjoys singing, spending time with her family and friends, and going on walks with friends. Her most memorable high school moment was the first day of her senior year because even though it was supposed to be a big day, it didn't feel any different than her junior year. If Andrea could spend a day with anyone, she would choose an older person because older people are wise and she feels she could learn a lot from them.
Andrea's dreams for the future are already coming true! She has planned to attend a two-year school for nursing and she recently got accepted to Southeast Technical Institute in Sioux Falls. In ten years she sees herself working as a registered nurse here in Rock Rapids. Andrea's words of wisdom for underclassmen are "go to school with a good attitude and you will have a great high school experience." Andrea's future is looking bright and her dreams will continue to come true!