Jessie L.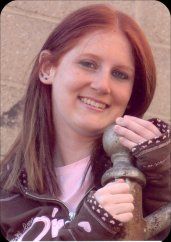 On October 17, 1987, Toby and Jill were gifted with their first child Jessie. Jessie has one sister Jaimee. Jessie also has a dog Casey and a cat Melendie.
Jessie was in volleyball, a musical, speech, and band and was a track manager her freshman year. This year she is busy with government, business marketing, social psychology, mentoring the 5th graders, intro to industrial tech, speech, business law, child development, and work study. Her favorite class this year is intro to industrial tech. Jessie enjoys listening to Janis Joplin and Changes by David Bowie. She likes watching Detroit Rock City and American Idol in her spare time. Jessie was voted Most Unique, Class Comedian, and Always Late.
Jessie plans to either start working or go to college after high school. In ten years, she sees herself married to a millionaire, living the life, with no kids, a maid, a personal trainer, a huge house and tons of money to spend on clothes and purses. If she could spend one day with someone she would choose her idol Janis Joplin because she is not afraid to be different, and she likes to stand out. Her words of wisdom to underclassmen are, "Don't compromise yourself you're all you've got." Jessie will do great things in the future and will go far!