Karli M.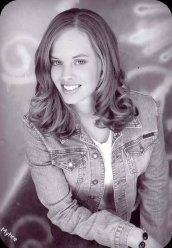 On November 10, 1987, Polly and John were blessed with a spunky little girl Karli. Karli has an older brother Chad, two older sisters Jennifer and Kelli, and a younger brother Korey.
This year Karli has been staying very busy with the following subjects: business marketing, social psychology, foods, choir, psychology, speech, journalism, pe, government, applied woods, single's survival, and grammar. While attending the United Methodist Church, Karli participates in youth group, is the bible school crew leader, and the youth group president. Karli is also outstanding in the musical department; she has been in choir four years, in swing and jazz choir three years, and in musicals and plays four years. This physically active girl has been in basketball three years, cross country two years, and track four years. Karli has tested her brainpowers in quiz bowl for the past two years, and she was the junior class secretary. Other activities in which she is involved include dance team, large group and individual speech, and boy's basketball and baseball manager. Karli has also recently been included as a member of NHS.
Karli has a passion for the color turquoise, all types of music besides country, and eating anything edible. On a cozy, winter day, you can find Karli watching her favorite and second favorite movies, Tommy Boy and Billy Madison, respectively. Her favorite subject is industrial tech, and her favorite T.V. show is Friends.
Karli's words of wisdom to underclassmen are, "Don't be afraid to try new things." Her favorite quote is, "Now that's how you do that right there." Her most memorable moments in high school are "making calls" with Natalie and Molly. Karli's plans for the future are to get out of Rock Rapids. Karli will contribute greatly to the college in which she chooses, and she will brighten the lives of many