Caitlin P.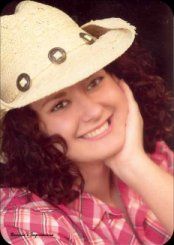 Caitlin Maureen P. was born on December 23, 1987, to Peggy and the late Mark. She lives with her mom and stepfather Steve. Caitlin's family also consists of her two sisters Erin and Tara; her brother Mike; her step-sister Jada; her step-brothers Zack and Dallas; two brothers-in-law; two sisters-in-law; two nieces; and three nephews. She also has two cats Spaz and Roxie.
Caitlin has been very busy during her senior year with a full class schedule, her jobs, and her other activities. The classes she is in this year are band, choir, Spanish IV, psychology, foods, Textiles II, today's family, journalism, grammar, government, homes by design, and single's survival. Caitlin has also been involved in a large variety of extra-curricular activities. These include pep band, choir, jazz band, jazz choir, swing choir, musicals, plays, football and wrestling cheerleader, volleyball, basketball and track manager, quiz bowl, mock trial, Academic Decathlon, International Club, National Honor Society, individual and large group speech, TATU (Teens Against Tobacco Use), and dance team. She is also the senior class treasurer and co-editor of the newspaper and yearbook. Caitlin a member of Holy Name Catholic Church. She is part of CYO and a lector at church. She also works at the Pizza Ranch and Sunshine Foods.
Caitlin enjoys spending her free time watching the movies Moulin Rouge and A Cinderella Story and listening to music by Weezer and Green Day. She likes reading the book Catcher in the Rye and watching the TV shows Jeopardy, Wildfire, and Inu Yasha. She loves macaroni and cheese and the color red. Her favorite school subject is band, and her favorite teachers are Mrs. Solem and Mr. Langholdt.
Caitlin has been accepted at Iowa State University, where she plans to major in Family and Consumer Science education and/or Apparel Design, Merchandising, and Production. In ten years, she sees herself ten years older with a nice job and hopefully married with two or three kids.
Caitlin's most memorable high school moments were getting seventh place at state jazz band her freshman year and taking child development her sophomore year. She is currently Miss Larchwood and Miss Lyon County. For "Best of Class" she was voted Most School Spirit.She has achieved High Honor Roll status throughout high school, as well. Her words of wisdom are, "Just be yourself." If she could spend one day with anyone, it would be her dad Mark Payne. He died when she was twelve, and she would like to see him again because she misses him very much. Caitlin has had a lot of success throughout her high school career, and she will continue to be successful throughout the rest of her life!