Deann P.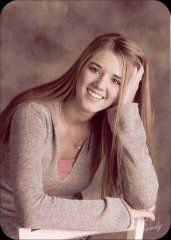 On October 26, 1987, Deann was born to Greg and Lori. The rest of Deann's family includes her six other sisters: Kristy, Melinda, Julie, Jennifer, Katie, and Emily. Deann has been involved in various activities throughout high school. She was in volleyball for four years and basketball for three years. Some other activities she has been active in are band, flag corps, choir, and swing choir.
Deann has acquired some favorites over her high school years. Her favorite movie is The Notebook, while her favorite TV show is ER. She loves the color pink and the food tacos. She enjoys reading any book written by Mary Higgens Clark. She likes listening to any music, especially country. Deann's favorite subjects are any of Mrs. Sheldon's classes.
Deann's most memorable high school moments include homecoming of her junior year and playing her favorite sport volleyball throughout high school. Upon graduating from high school, Deann plans to attend a four year college. In ten years, she sees herself married with a good job and two or three kids. Deann would like to leave us with these words of wisdom, "Know the golden rule: treat others how you'd like to be treated." Knowing Deann, the journalism staff believes she will live a very interesting life.