Kendra V.B.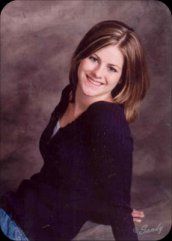 Kendra Rose was born on December 26, 1987 to her mother Becky and her father Tim. She was followed by her brothers Derek and Dalton.
Kendra is very active in her extracurricular activities. She has been in cheerleading for four years, international club for three years and FFA for four years. She is keeping busy this year with her full academic schedule as well. She is taking grammar, Government, ag. Business, band, choir, health, work study, and p.e.
Kendra enjoys watching the movie Dukes of Hazard while eating ice cream. On a Thursday night you will find Kendra watching her favorite show CSI and reading her favorite book Perfect. Some other favorites include: the color blue and the song "Confessions" by Usher.
In the future Kendra is going to a two-year school to become a lab technician, get a job, and hopefully marry. Kendra will always remember when Central Lyon beat West Lyon in the 2004 football season and became the district champs. Kendra's advice to the underclassmen is to take as many hard classes as possible your sophomore/junior year, so that you have a slack senior year. If Kendra could spend a day with someone it would be with her aunt Raelynn because she takes her shopping up in Minneapolis. Kendra has a very positive outlook at school and we know she will continue to keep this attitude throughout her life.