Mecinze B.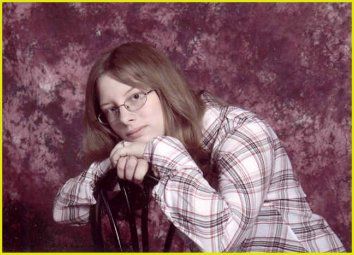 On September 16, 1988, Mecinze Berg was born to parents Keith and Lora Berg. Mecinze has an older sister, Pam, and a younger sister, Charlotte. She is also very close to her grandparents, Don and Jean.
During her high school career, Mecinze has been involved in quiz bowl, dance team, band, the honor roll, and just this year, cheerleading. Mecinze's senior year class schedule consists of band, business marketing, family and consumer science, chemistry in the community, shop, natural resources, government, and speech. Although she's been involved in all this, Mecinze spends most of her time in an activity that has no affiliation with Central Lyon. She has been involved with dance classes for seven years now and has developed a strong passion for all types of dance. Mecinze also devotes some of her time to her church's RCYF chapter.
When she's not involved in one of her many activities, Mecinze enjoys watching her favorite movie, Robin Hood: Men in Tights, or listening to some sweet, sweet country music. She also enjoys watching any movie of Orlando Bloom's, because she is a big, big fan of his. Mecinze's list of favorites also includes the color blue, the book The Lord of the Rings, the meal roast beef with gravy, and the TV show Narnto. Her favorite school subjects are shop and may term mythology. Her favorite high school memory came when she found out she could chew gum during school hours.
Mecinze's future plans include college or work. In ten years, she sees herself working somewhere and supporting herself. If Mecinze could spend one day with anyone (living or dead) she wanted, she would spend the day with Tina Van Holland, her church mentor. Mecinze respects Tina tremendously because the two get along famously and Tina always allows Mecinze to be herself.