Ashley M.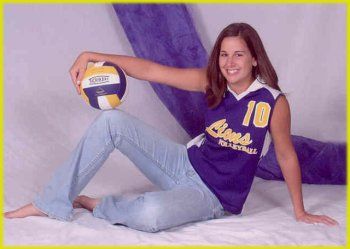 On February 8th, 1989, Bill and Charlotte Metzger added the last addition to their family, that addition was Ashley Jo. Besides Ashley she has three brothers, four sisters, three nephews, and four nieces.
During Ashley's high school career she was very involved. She was involved in basketball for two years, volleyball for four years, international club for two years, class treasurer for four years, NHS for two years, jazz choir for two years, swing choir for three years, jazz band for one year, basketball manager for one year, and FFA for four years.
Some of the classes Ashley is taking this year are grammar, calculus, social psychology, PE., band, choir, single survival, business marketing, speech, and government. Ashley is also involved in her church's youth group.
Ashley has received honor roll, 2nd team all conference for volleyball, and 1st team all conference for volleyball.
Ashley has many favorites. Some of which include blue and yellow, all kinds of music, mainly country, the movie Sweet Home Alabama, ice cream, single survival, the television show The O.C., Message in a Bottle, and Target.
Ashley's future plans are to attend a four year college. In ten years she sees herself working. Her most memorable high school moment was being a part of the volleyball team.
If Ashley could spend one day with anyone she would spend it with her grandmas. She would spend it with them because they both died before she was born and she would like to get to know them.
Ashley's words of wisdom to underclassmen are "believe in yourself". We believe Ashley will be very successful in the future and achieve her dreams.