Preston P.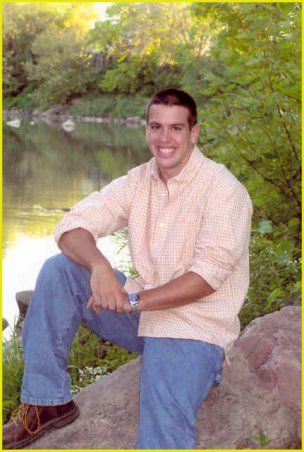 Duey and Patty Perrett welcomed a wonderful baby boy into the world on April 17, 1989.  This new addition was Preston Perrett, the couple's third child.  His sister Ranae and his brother Brett preceded Preston in birth, and he was followed by his younger brother Houston.  Preston's family also consists of his dog Sam.
    Preston's schedule for this year have included metal fabrication, physics, p.e., work study, Spanish II, grammar, government, and psychology.  He has been involved with football all four years, track all four years, basketball one year, and wrestling one year.  Preston's most memorable moment is one any avid Central Lyon football player would consider a great accomplishment—beating West Lyon 15-14 for the district title Preston's sophomore year.
    Along with enjoying sports, Preston also enjoys watching movies such as Backdraft and shows such as Rescue Me and Nip/Tuck.  He likes to eat pizza and Chinese food, and his favorite color is orange.