Scholarship Handbook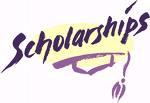 HANDBOOK
There are many scholarships available for the students who qualify and apply for them early. Deadlines for application are crucial. Late applications are usually not even considered! Scholarships are available based on need and ability (academic, athletic, leadership, artistic talents). Community involvement can be included in the selection. Some scholarships merely require completing an application; others ask for an essay, recommendation letters, or presentation of talent.
Completing the scholarship application accurately, completely and neatly is extremely important.
Type the information whenever possible.
When references or recommendation letters are required, be sure to contact the person writing the letter early. Ask the principal, counselor or teacher two or three weeks prior to the deadline, so they have time to do a quality job.
To assist the writer, complete the senior recommendation sheet available from guidance. Be sure to note whether the recommendation is to be sent with the application, in a special envelope, or on a special form.
Provide a stamped, addressed envelope when necessary.
Make sure you thank them for taking the time to support you.
So often, students do not apply if they have to write an essay or they wait too long before they start the writing process. It is important to start early and to apply.
This document includes a list of scholarships available through the guidance office. The actual forms can be found on the wall beside the guidance offices. The Scholarship Folder in the Guidance office contains many scholarship applications available locally and nationally.
Finally, once you have received a scholarship, it is important to send a letter of acceptance and appreciation.