Natural Resources Create Biofuels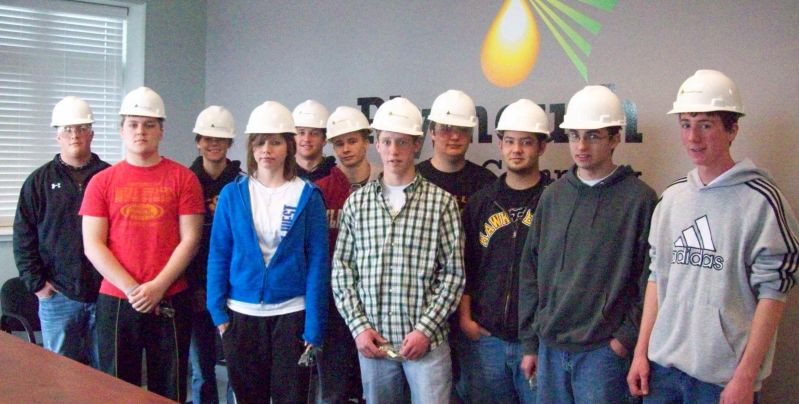 After an extensive study of renewable biofuels, Mr. Postma's natural resource class recently took a field trip to Plymouth Oil Co. and Plymouth Energy Co., both companies located near LeMars. The first stop was Plymouth Oil. At this plant, which began operations less than a month ago, food grade, low fat corn oil is produced form kernels of corn. At full capacity the plant will produce about 90 tons of corn oil a day. The germ part of the kernel is fractionated and this is where the corn oil product is extracted. The remaining part of the kernel is used next door at the Plymouth Energy ethanol plant to produce ethanol. The remaining by-product of the Plymouth Oil is a high grade feed source sold locally to chicken farmers and hog farmers. There is a strong and growing demand for this high grade human edible corn oil both in the U.S. and worldwide. As fast food restaurants move away from the high trans fat oils, they are discovering this corn oil to be a very desirable replacement. They are currently 23 top quality jobs/employees at the plant.
Just across the road from the Plymouth Oil is Plymouth Energy. These two companies do share some ownership, but are two separate entities. Plymouth Energy produces over 50 million gallons of ethanol per year from approximately the 20 million bushels of corn utilized annually all from within 50 miles of the plant. The plant also provides wet distillers grains (180,000 tons/year), dry distillers grains (90,000 tons/year), and corn syrup to hog, poultry, dairy, and cattle operations all through NW Iowa, NE Nebraska, SE South Dakota, and SW Minnesota. The location of the plant, as is the case with other ethanol plants, is ideally located because of plentiful corn production and the huge amount of livestock for the ethanol by-products. Plymouth Energy leases 200 rail cars and ships its ethanol primarily to Oregon, Washington, California, Texas, Chicago, and Florida. Some is now exported to Europe and Canada. Also Plymouth Energy is exporting some Distillers Grains by product to China.
The Plymouth Energy Ethanol Plant has been in operation since December of 2008 with initial costs of $100 million including working capital to begin operations. There is sufficient access to expand to 110 million gallon capacity. There are currently 35 full time employees working at the plant and doesn't include dozens of local truck drivers, electricians, and other service personnel called upon from within the surrounding communities. We were also informed that NCC in Sheldon and STI in Sioux Falls offer the Renewable Fuels degree required to work at both plants. We also learned that the complex complex where these two plants are located and when they both become fully operational, they will be one of the first of its kind in the world. The Central Lyon Natural Resources class learned a great deal from an environmental standpoint (renewable energy), economic standpoint (construction, jobs, money staying in America, etc.) and agricultural standpoint (increased demand for corn and the value of the by-products as livestock feeds). It was a very interesting day.
A special "Thank You" to Greg Popkes for being our tour guide. Greg is a Rock Rapids businessman and was one of the original five investors in the two plants. Again a huge THANK YOU to Greg and the staff at both plants.