Veterans Day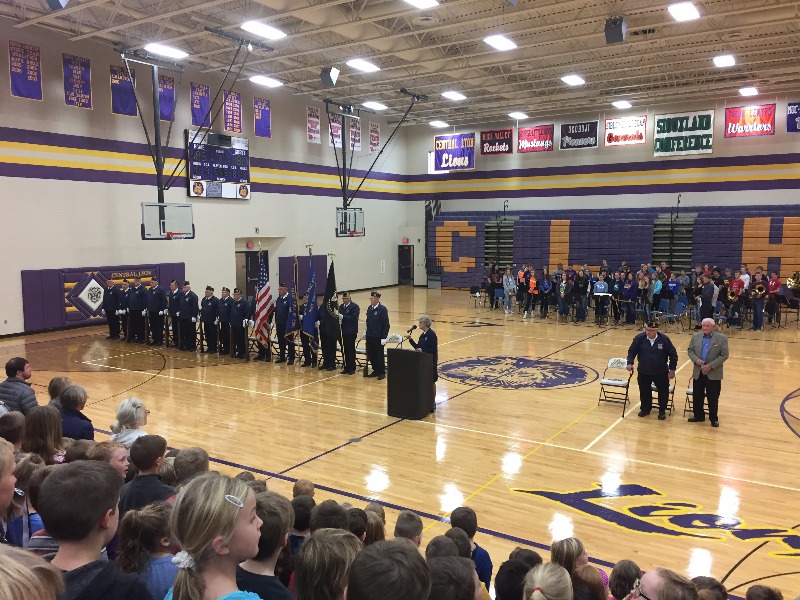 This morning we attended the Veterans Day Memorial Service in the Central Lyon High School gym. The American Legion Post 103 and the VFW Post 6960 presented the colors. We were then led in prayer and the CLHS Choir sang The National Anthem. Following this everyone recited The Pledge of Allegiance. The CLHS Choir then sang, "God Bless the USA". Mrs. Snyders's 2nd grade class then recited a Veterans Day poem they had memorized. Next, Lee Klosterbuer introduced George Schneidermann as the guest speaker. He gave us a great history lesson about James Forster who was a veteran and has been very generous with donations to our town.
The CLHS Band then played a 5 Branch Military Medley and each Veteran present was asked to stand when their branch song was played. Generally, following this the firing squad is dismissed for the 21 Gun Salute in honor of the Veterans that have passed before us and then 2 high school students usually echo play "Taps", but these two things will be done tomorrow at another Veterans Day assembly. A final prayer was said, and the ceremony was concluded. Some of my students parents and grandparents who have served were even in attendance!
We would like to say "THANK YOU" to all of our veterans for defending our country and allowing us to continue enjoying our many freedoms.