Kyler Huisman
Three Points to Huisman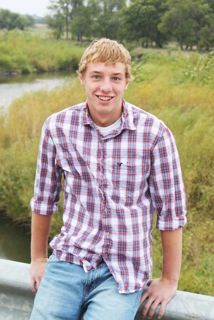 Kyler Huisman was born on March 31, 1994, to Wade and the late Mary Huisman. Kyler is the oldest of a family of four children. He has two brothers, Rylie and Braden, and one sister, Madie. He also has a step-mother, Amber.
In school Kyler participates in International Club, FFA, football, basketball, track, and baseball. This year he's taking physics, human anatomy, AP calculus, foundations of education, psychology, government, and grammar. Outside of school, Kyler is a part of RCYF of the First Reformed Church.
When Kyler isn't at school or playing his favorite sport, he loves eating bacon cheeseburgers, watching "Sports Center," and working on math. His favorite color is purple.
In ten years Kyler sees himself living somewhere around this area. His most memorable moment in high school has been the 2011 Beef Bowl. "Enjoy your time in high school," are Kyler's words of wisdom. If Kyler could spend one day with someone, he would spend it with Michael Jordan because he is Kyler's favorite basketball player of all time.
Good luck in the future, Kyler!
Written by Martina Peterson