Brent Leuthold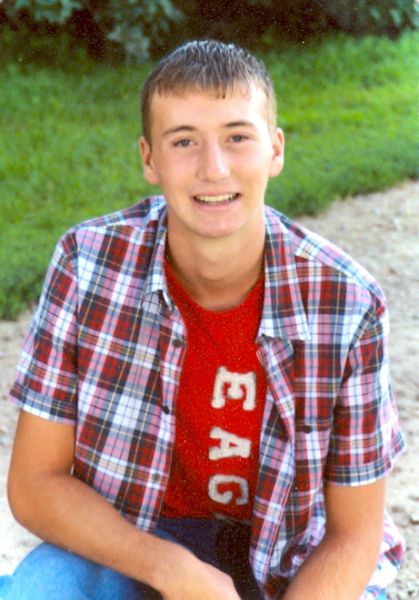 On the 27th of July, 1993, Brent was brought into this world by his parents, Douglas and Charlene Leuthold. In the present day, his family consists of his parents and his siblings Chris, Sara, and Adam Leuthold.
The activities that Brent has participated in in the last few years of his high school career are Future Farmers of America, concert and marching band, the school musicals, May term plays, jazz band, and quiz bowl. The subjects that Brent has put into his curriculum for this year are band, consumer & business math, single survival, Applied Woods IV, agricultural business, Novel II, government, natural resources, and agriculture.
A few favorites of Brent's are the movie "Birdemic," the music genre of country, the color red, the book "The Iron Marshall," any type of food that's grilled, shop class, the tv show "Big Bang Theory," ping pong, fishing, and farming.
Ten years from now Brent sees himself farming with both his father and brothers. In the further future Brent sees himself hopefully graduating to attend Iowa Lakes Community College for agricultural production, which afterwards he will hope to find a job, get married, raise a family, start farming, and eventually retire. Looking back at the past, Brent would find that his most memorable moment in high school was attending state jazz band.
If Brent could choose one person to spend the day with, he would choose to spend his day with the fourteenth president of the United States, Franklin Pierce, because he was a "pretty cool cat."
Brent wants to leave high school with one bit of advice that he thinks a lot of people could use, and that is "Keep your priorities straight."
We hope you have a good future at Iowa Lakes, Brent! Good luck!
Written by: Zach Henrickson