Kayla Kooiker
Kayla Mae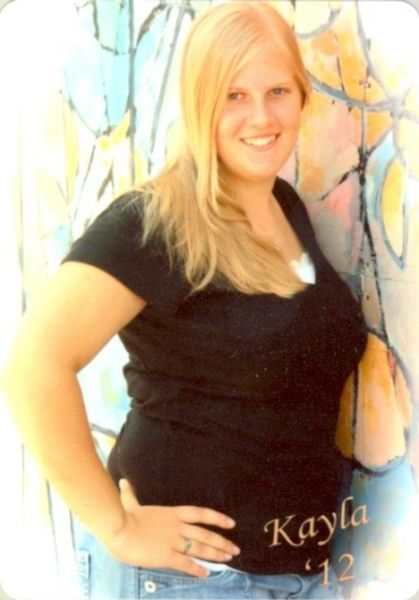 On June 12, 1993, Keith and Shari Kooiker welcomed Kayla Mae into the world. Kayla also has two sisters, Kara and Kendra, and a brother-in-law, Doug.
Kayla has been very active throughout her high school career. Throughout her high school career, Kayla has been involved in FFA, choir, jazz choir, swing choir, vocal solo contest, high school plays/musicals, band, flag corps, basketball freshman year, basketball manager sophomore year, and International Club. Outside of school, Kayla is involved in F.R.E.D. youth group, vacation Bible school leader, and praise group. This year, Kayla is taking child development, single survival, FFA, Algebra II, grammar, speech, band, choir, government, and work study.
When Kayla isn't busy with homework, she enjoys watching the movie, "Twister" while eating cheesy potatoes. She also likes the TV show, "Hawaii Five-O." Her favorite color is pink and her favorite music to listen to is country. She enjoys reading "Scribbler of Dreams" and working on math and American history.
Kayla's future plans are going to college for massage therapy and, once out of college, she hopes to be married and have a job. Her most memorable moment in high school has been going to the national FFA convention. "Enjoy your high school years because they go by really fast," Kayla states as her words of wisdom. If Kayla had the opportunity to spend one day with anyone she would choose her grandma Kooiker because she was fun to be around and easy to talk to.
Enjoy the rest of your high school career, Kayla!
Written by: Martina Peterson