Eric Clasen
You're Gonna Go Far, Kid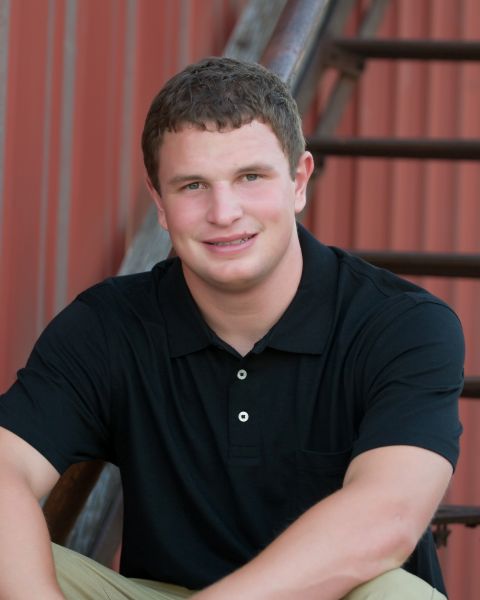 Eric James Clasen was born April 9, 1993. His parents are Harlan and Vicki Clasen, and he also has an older sister, Kristin. He enjoys spending time with his sister and close friends, whether it's playing video/board games, or going to Bdubs (Buffalo Wild Wings) or Hu Hot. His favorite movie is "Ghost Protocol," and he loves listening to upbeat music that he can work out to.
Eric has been taking a wide variety of classes this year, including government, grammar, physics, AP calc, band, and single survival. Eric has been very involved with school. For all four years, he's been in football, track, baseball, Quiz Bowl, concert band and International Club. He's also been in basketball, bowling, marching band, jazz band and National Honor Society. Eric has numerous accomplishments in high school, some including football captain, letter in baseball and track and also making it to state jazz band and homecoming court this year. Outside of school, besides volunteering for mission trips in the summer, Eric has been worked with this father's business, Clasen Excavating, and also with the Rock Rapids Country Club, Grand Falls Casino, and Rock Rapids' pool as a lifeguard.
Looking back throughout high school, Eric's fondest memories included the Florida trip with the band and choir kids his sophomore year, and also the NASA trip in Texas as a junior. And for his senior year, going to the playoffs with is football team was a big accomplishment, but Eric will be making more exciting memories when he travels to Spain in the late summer.
Eric will be moving to Iowa City to begin college at the University of Iowa, earning a degree in mechanical engineering. In ten years from now, Eric sees himself working for a big company like John Deere or Caterpillar.
If Eric could spend a day with anyone imaginable, he chose to spend it with his great grandma because he would have so many questions. He would ask her about her life since she came from Czechoslovakia. As for words of wisdom for underclassman, "Work hard and it will pay off someday." Best wishes for a bright future.
Written by Eloise Robison