Kaylie Blakey
Krazy Kaylie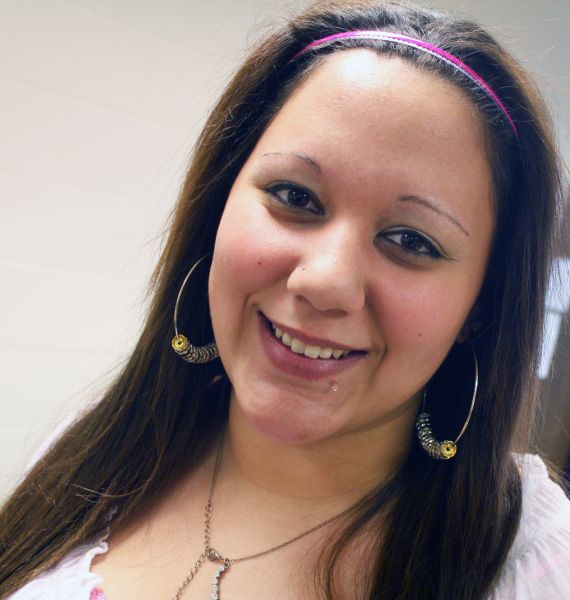 Kaylie Blakey was born on August 27th, 1994, to her mother, Luz Simons. Her family also consists of her stepfather Dan Simons, two brothers, Codey Blakey and Danny Simons, Jr.; sister Shelbie Simons, and two stepsisters, Joyce Johnson and Windy Newby. She also has three nieces Marissa Perez, Jasmin Johnson, and Raven Simons, and one nephew Mikey Simons.
Her senior year schedule government, human anatomy and physiology, work study, art, psychology, Algebra I, and single survival. However, Kaylie'€™s favorite subject is human anatomy and physiology and science classes.
Some of Kaylie'€™s favorites include the movie "€œFour Brothers,"€ and the TV shows "That 70'€™s Show," "€œThe Voice," "American Idol," and "€œParenthood."€ She also likes Mexican and Chinese food, the color purple. She loves rock and R&B music, Bob Marley, Jimmi Hendrix, and anything but country music.
Kaylie'€™s favorite hobby is making hemp necklaces, and she enjoys helping people. She works as a HST/CNA at the Minnesota Veterans Home in Luverne, Minnesota. She also helps the elderly neighbors with anything they need.
Kaylie's favorite high school memories are from all the fun, exciting times in Mrs. Wright'€™s room. Her word of advice for the underclassmen is to have and keep a good, positive attitude throughout high school. If Kaylie could spend the day with anyone, she would spend it with her uncle David because he was her favorite uncle and always made her laugh.
Her future plans after high school include going to college to be a radiology technician and also having part time job at the Veterans home while going to school. In ten years she sees herself working at a huge hospital and maybe starting a family.
Good luck in the future, Kaylie! You will be missed!